Requirements for a membership?? The only requirement to become a member is that you are either a descendant of the autonomous Province of Trentino in Northern Italy OR You Just Like Us.
***************************************************************
You're Invited!!!!!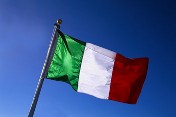 To the Italian Organization Community Picnic
Sunday, June 28, 2015, noon to 9 pm
Tanglewood Sports Park & Tennis Courts-South Pavillion
13950 W. 20th Ave., Golden CO 80401
Bring out Italian Community together!!
This picnic is sponsored by the Tirolesi Trentini del Colorado. The park/pavilion, polenta (until it runs out!), music, raffle prizes and games will be provided. Please bring potluck items for lunch and dessert, your own paper products and drinks (canned beer and wine is allowed), extra chairs, just in case, and donate a prize for the raffle. Proceeds will go to a charity.
Wear your club shirts, nametags will be provided.
Directions: I 70 west to Denver West Marriott Blvd., turn right (north) to Denver West Parkway, right (east) again and follow to W. 20th Avenue to park on the left.
For more information, please call Anna Vann at 303-650-1057 or email tmvenv@msn.com.